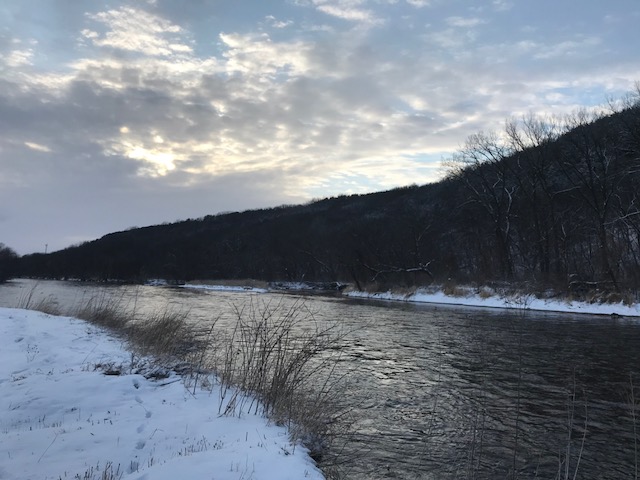 Pop quiz! I took the photo above on:
a) December 15
b) January 15
c) April 15
The answer, as anyone in the Upper Midwest can guess (channeling Prince) is C. And yet, despite more fierce thick snow today, it's clear the general tilt of the earth is springward now.
Sunday afternoon, I took my skis back out of the basement and toted them across the dike and toward the river. I made it for about a hundred yards before the wet snow clumped and made gliding impossible.
On the runoff ponds on both sides of the dike, ducks — the first ducks I've seen this year – were dabbling. One, an adult Northern Shoveler, emitted a low burring call that sounded oddly like a train passing over a railroad crossing (chk-chk, chk-chk) to call the young one close again. Red-wing blackbirds filled the air with their distinctive, liquidy two-note song. A juvenile bald eagle looped overhead, looking for mice. Over under a young pine, a little herd of deer nibbled the low branches, then – inevitably – trotted back over the dike to look for more food in their favorite place, our neighborhood yards. The last had a gimpy left rear hock, darkened and swollen, yet it followed its fellows back up over the dike and out of sight.
The title of this post comes from Dylan Thomas's poem, which points us toward mortality and, because of that, beauty. Life keeps on going, beautiful and beautifully strange. Take, for instance, the weirdly compelling noise of rhubarb growing in the dark, which must surely also be the sound of that green fuse unfolding itself, of life detonating, up and up.
Among the many prayers we must surely say in these times is, Lord, teach us to see and to hear. And thank you for the art, and the creatures, that share this mortal yet ever-turning world with us. The birds still know what time it is, and what is coming next.