In August 2019, an alarming number clarified my mission in life. "How Much Hotter Is Your Hometown Than When You Were Born?" asked a New York Times infographic. "As the world warms because of human-induced climate change, most of us can expect to see more days when temperatures hit 90 degrees Fahrenheit (32 degrees Celsius) or higher. See how your hometown has changed so far and how much hotter it may get." Plugging in my rural Alabama hometown, then my birth year, I was stunned to find a prediction that by the time I'm 80, my town could experience 110 days per year at or above 90 degrees. That same day, I read another Times article about impending water stress: "A Quarter of Humanity Faces Looming Water Crises," it warned, as the world gets hotter and drier. Where will that stress fall? Looking at the map, it's clear: the (global) South.  This is the world under-30s are inheriting from us over-40s. (Thanks, us.) In that moment I made a vow: if my writing and teaching don't expand human and nonhuman capacities for survival – in the best and most beautiful ways – in the world that's coming, I will shift my direction of travel accordingly.
Yet, like Greta Thunberg in her wind-powered boat, I'm sailing against some strong currents. That same August week, as she docked in New York Harbor, only three out of my 19 first-year Paideia students recognized her name. And this is the most smartphone-addicted, marketed-to, ostensibly "informed" generation on earth. With the fiendish cleverness of any other parasite, those same phones link into the pre-existing epater-les-adults tendency and hunger for connection that (rightly) fuel adolescent brains: what do you mean, social media is bad for me? all my friends are here! you just don't understand the internet because you're old! Yet it's their generation that bears the brunt of everything those smartphones and their corporate, attention-economy underpinnings are fostering. Climate change. Economic inequality and vanishing job opportunities. And, most of all – sorry, y'all, but I've been teaching first-year college students for more than 20 years – the shrinkage of intellectual, social, and critical capacities as "phones" have migrated off the wall, into pockets, and now, literally, under students' pillows at night. If English professors don't name this problem and activate the most positive-human-capacity-preserving-and-expanding devices at our command – books, words, and his/stories – those capacities will dwindle and die. And for low-capacity humans, the future is really going to suck. ("This is hard!" Well, like the Honey Badger, future don't care.) So I sharpened my teaching approach and my writing projects in this direction, including overt declarations of "why we're doing/reading/writing X in this class," an historical novel to bring Mary Shelley to new life ("I never realized," marveled one first-year student, "that she was my age when she wrote Frankenstein!"), a textbook for advanced fiction writers (including advice on writing about social and political difference and building a healthy creative life), and a nonfiction book-in-progress called An Awful Rainbow: Reading the Romantics in a World on Fire. In January 2020, inside a dying Alpine glacier, students and I contemplated the change around us, and wept; that scene became the book's new introduction. With a spring 2020 sabbatical ahead, I was ready to work.
My plans fell apart in the second week of March, when the COVID-19 pandemic got real.  With the support of the Paideia Sabbatical Fund, I'd planned to spend March 16-April 6 in London, researching two books and lecturing at Highgate Cemetery on two of its residents, the nineteenth-century boxing-world figures Pierce Egan and Tom Sayers. (My boxing obsession is connected to An Awful Rainbow's chapter on Byron – long story.) I'd also planned a couple weeks of research at the Yale Center for British Art.  With care, I hoped, I'd be able to travel and avoid the worrisome but surely-not-that-bad new disease creeping over the world.  After all, supported by the English Department, I'd just spent February's last weekend in New York City, where I'd taken a writing class with Colm Toibin, dined with boxing memoirist and all-around inspiration Kate Sekules, visited the Strand and the Met and the Tenement Museum (hurrying past Gabrielle Hamilton's restaurant Prune in the now-tragic faith I could always go back), went to an NYC Ballet matinee, and strode across the Brooklyn Bridge, my heart swelling with Whitmanesque pride. People on the subway were not yet masked but were hand-sanitizing obsessively and eyeing one another with a wariness not yet that different from traditional New Yorkishness. The CDC wasn't yet warning against travel to Britain. Surely this impending crisis, like all the other (un)natural shocks the twenty-first century is heir to, could be at least superficially dodged with common sense and care.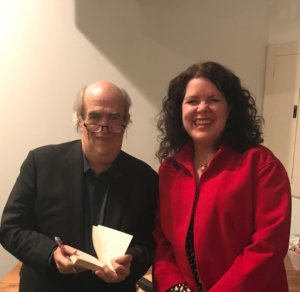 But that was before – parked on my couch, obsessively toggling among the CDC website, the New York Times, and the Guardian – I watched coronavirus case numbers soar in London and at home. Then airports began to shut and quarantines began to fall into place and what we now know as lockdown took hold. Overnight, I went from being worried but essentially OK with travel to canceling my whole London trip, obeying an undeniable feeling of relief.  Luckily, Delta Airlines issued a travel voucher. Luckily, my London flat's owner blocked out a new set of weeks for me to stay in what's now June 2021. Luckily, the Yale Center for British Art isn't going anywhere.  And I did my best to sort out what my sabbatical had become: a series of calendar days, blank except for the scribbles of things crossed out.
Of course, I had plenty of writing projects underway. But like many writers, I wondered whether, even with "so much time to write," I'd be able to get down a single word. For a week or so, I felt like a hiker suddenly unbalanced and falling, snatching for branches as I careened down the side of a cliff.  But I was better off than the waitresses whose jobs had vanished, or the doctors and nurses catatonic with exhaustion and grief, or the parents trying to work from home with children climbing the walls, or the colleagues pivoting to the then-new medium of Zoom in mid-semester. "What are your Luther College English professors doing during the pandemic?" wrote one student wit on our department's Facebook page. "Lifelong foe of technology Amy Weldon is giving thanks she's on sabbatical this semester." Indeed I was. Having quit social media for good on the eve of my January-term "In Frankenstein's Footsteps" course through London, Geneva, Venice, Florence, and Rome, I was, and am, well out of that maelstrom. But alone in my house with Manchester the Cat, the isolation rose deep around me, deceptively clear and silent as water you don't see until it threatens to stop your breath. It took a month or so to get something like a grip. I spent days reading and walking and gardening and repainting cabinets and rooms and refinancing my mortgage and dreading the inevitable day when I'd have to learn Zoom and retool courses for the fall (not that bad, actually, when it came.) I took online writing seminars and signed onto a weekly Zoom "watch party" hosted by Elena Ferrante's publisher, Europa Editions, for the HBO adaptation of her Neapolitan novels. I took part in an online group reading War and Peace with the novelist Yiyun Li.  I wrote like hell.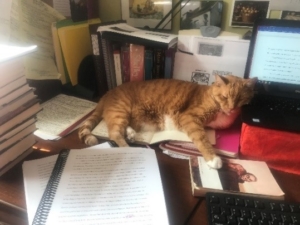 And, most surprisingly, my week acquired a new element: a regular Skype call with Sam, a former student in Paideia and the 2018 incarnation of my study-abroad course, "In Frankenstein's Footsteps." Sam reached out because, nearing the end of his master's program in divinity at Boston College, he was seeking reading recommendations for himself and his friends.  Then we scheduled a Skype call, and just kept scheduling the next one. Over the next months, we talked each week about politics and the latest worries and outrages in the news and Sam's (by-now-successful) job search.  It's hard to describe the particular bond between a former student and a teacher as both grow older without seeming creepy or sentimental. But it's no exaggeration to say that in a difficult time, that bond, born of the work I believe I've been put on this earth to do, between myself and a dear human being whose mentor I've been blessed to become, sustained me more than I could say.
Given how my work at Luther threw me this lifeline from an unexpected direction, and given that vow I made last year, I see one big task ahead: defining the worth of reading, writing, and thinking – especially for students and their families – in a world where change and catastrophe multiply with a Fibonacci-spiral force, destabilizing the solidity of college more than I ever thought possible.  Zadie Smith writes in Intimations, "The infinite promise of American youth— a promise elaborately articulated by movies and advertisements and university prospectuses — has been an empty lie for so long that I notice my students joking about it with a black humor more appropriate to old men, to the veterans of wars."  I do too. And I notice some other things. Shifts in society and student demographics (like those on the Beloit College Mindset List) that used to take a decade or so to churn now take two years, or eighteen months, or one semester.  Students who once came to my classroom never not having known "the Internet" (sequestered on a computer on a desk, from which you could walk away) now arrive never having not known the web of social media and algorithmically tailored infotainment that sprawls in one omnipresent weltanschaaung into every corner of our public and private lives. The difference only looks insignificant. Because as it spills into our lives and minds like hog waste into groundwater, that inescapable screeniness is stealing intellectual depth and focus from our collective and individual selves even as it steals our data to sell to the billionaires whose wealth-concentration impoverishes, in turn, the very real-time economic lives from which we seek relief through those same screens. Or through improving our houses or gardens or health. Or through college.  Or through all three.  It's a Mobius-like continuum of blithe, destructive irony:  the Internet, which has wedged itself into every space of necessity and desire in our lives, is also the force leaching beauty, meaning, economic wherewithal, sanity, safety, and plain old human decency from our lives, even as its expertly tailored tinctures of brain-reward keep us coming right on back for more and do their damnedest to conceal every bit of this process from our critical view so that it can impoverish us even more, with our semi-inadvertent connivance and consent.
Each year I define for students and their parents why a college education (particularly ours) is still worth the investment, what exactly we are teaching or training students in beyond "content mastery," why it matters that I still ask students to read books on paper and write by hand, and why, for the richest pursuit of diversity, those books must have been written not just in a student's own time but also beyond the accustomed reach, in culture, time, and place, of what she might at first find "relatable." It's good intellectual practice to be asked to do this, lest you mold your once-pliable mind, like a snail, to the hard shell of protective cliché. It's good to articulate, to inquisitive minds beyond one's traditional college "audience," how the opportunities of a college education can come within their reach, too.  Because it is only in reaching beyond our habitual range – in intellectual, social, and bodily life – that we develop that thing called capacity that will enable us to live into what's coming next. College and the reading-and-writing-and-thinking life it shelters can build that capacity in a way nothing else does, and we professors and students stand up for its value in a way nobody else will. We have to say the words out loud, and keep on pushing.  What we do matters. Even when it seems like no one's listening.
Last night I heard the radio announcer say fourteen days till the election and found myself on my knees, clutching my countertop edge, praying without words. Everything has changed since January 1, 2020. And everything has only become more of what it already was. This sabbatical time has given me an eerily clear view of the shell-cratered landscape that now masquerades as public life, where climate change, Derek Chauvin's knee on George Floyd's neck, and a poison gas of all-caps narcissism hissing from the White House mean that the stakes for us in higher education are very high.  Because we still must train and graduate our beloved students into this world as it is even as we work for what it could be – and help them swim against the tide of screen-enabled wealth-concentration that threatens to swamp their own entrepreneurial boats. (Did y'all know Jeff Bezos could give every Amazon employee $100,000 and still have more money than he did before the pandemic?) I wake each day into greater personal and collective anxiety than I can ever remember about our planet's, our nation's, and higher education's future.  I can't shake the feeling this year isn't just a breaking point but a turning point, for me and all of us.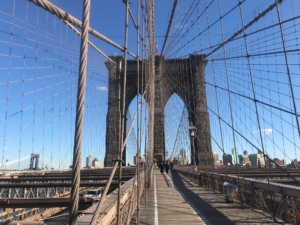 So, of course, I've got to keep on pushing. "The Lord God has given me the tongue of a teacher," says the prophet Isaiah, "that I may enlighten the weary with a word."  More than ever, in this turning-point year, I feel gripped by the need to write and teach and push on toward a vision of what's good and true, hoping that the world will heed. And I always ask: is what I'm doing expanding students' capacities to meet the world ahead? Is it offering them the good companionship of the voices of the past, of the good and nuanced and worthwhile, to walk beside them into the future? Creature: A Novel of Mary Shelley is finished, and in Mary Shelley's own words, I am "bidding my hideous progeny to go forth and prosper." As you can read here, that Alpine glacier moment is now the focal point of the introduction for An Awful Rainbow: Reading the Romantics in a World on Fire. This summer I signed a contract to deliver a third book, Advanced Fiction Writing: A Writer's Guide and Anthology.  An article on the great Southern writer Elizabeth Spencer – my friend, news of whose death reached me in Venice this January with students – is appearing in The Journal of the Short Story in English. Reviews and my essay about my late father, "Gaze Upon This World," have been released or rereleased in Orion Magazine. My sabbatical has not been unproductive. But I'm hoping it will be useful – now and in the world as it will be ten years from now, twenty, beyond and beyond into shapes we can't see.
In one sense, I had "so much time to write" during a pandemic sabbatical. But in another sense, I don't have much time at all. As I rebuild my disrupted travel plans and continue to work with my students and to write like hell, I'm also driven to look hard at how we might actually sustain and rebuild ourselves in a world that will never truly "get back to normal" – a world in which we're learning how shaky the foundations of normal really are.