So this afternoon, following a morning of errands, I tackled the yard again: grass-cutting, edging, cleaning off the sidewalk, and then weeding, till my clothes were completely soaked with sweat. I mean, even my socks.  And my old yard sneakers.  Tomatoes have rocketed up and out, putting on green fruit like crazy, necessitating some tucking-in and roping-up of big straggling branches.  Tonight, the air is so hot and humid that my windows are fogged from the contact between the air conditioner and the outside, every one.  By the time I called it quits – left the wheelbarrow of weeds right where it was and came in and cleaned up – I was starting to feel what old Southern folks call "the bear gettin' me."
Mellowness was the order of the rest of the afternoon.  Since it was getting on to dinner, I poured some cold white wine and gathered a basket full of four of the six different kinds of basil I'm growing this year, whirled it up with some olive oil and lemon juice and lemon zest and a few peanuts (not the purist touch, but what was in the cupboard) and pasta.  And I took my bowl and glass to my backyard chair with my latest obsession, which I'm far from alone in sharing: a book about Italy.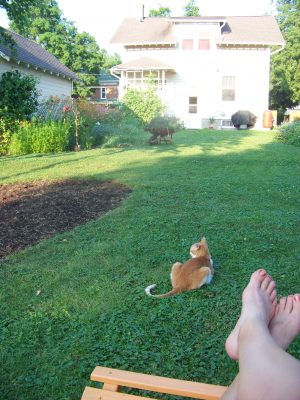 Yes, I am on the Frances Mayes bandwagon, only about ten years behind.  But seriously, is there any better summertime reading? Hard to tell what I like more, the accounts of house and garden restoration (which is catnip to someone like me) or the recipes in the book (many ingredients for which I am growing — eggplants, peppers, and even, unwillingly, rabbits) or the lyrical reflections on place, mingling her memories of her native South with Tuscany.  I sipped my wine, ate my own fresh pesto from my own basil, and drifted into a sort of dream.  The air was hot but soft, with no bugs.  My garden, brought to order under my own hand, hummed with quiet satisfied life around me.  And it seemed to be in a kind of kinship of latitude, or attitude, with rural Italy – farms, country towns, people working with their hands, raising from the ground what they want to eat.  We do that here in our corner of Iowa.  I do it in my own backyard.  Immersed in the book, sitting in my own yard, I wondered for a second whether I was here or there.  I felt part of the larger, serene unity of places where people grow things by hand: it is a country of its own, all over the world. And I'm a citizen.
I thought: It has always been my dream to go to Italy.  And getting out of debt is the first step to getting there.  I have begun to secure my life here.  And that means, in the words of Thoreau, putting foundations under some of my lifelong dreams as well.  I remember reading a story in a financial planning book years ago in which the author and a friend went to Italy.  The friend admired a statue and bought it on the spot – for several thousand dollars.  When asked about it, she said, simply, "I don't waste my money on stupid things.  So when I see something I really love, I can have it."
This fall, the savings begin.  And I get one step closer to a lot of other dreams.