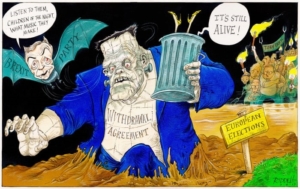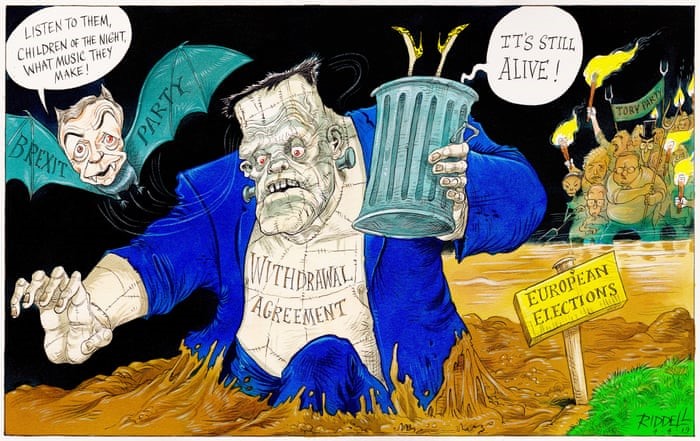 This January, students and I were supposed to be in London and Haworth and Whitby, tracking Frankenstein's Creature and Dracula and Heathcliff and Mr. Hyde. Instead we were in a classroom on campus, a beloved old building with a sloping floor, a harmless ghost named Gertrude (according to student legend), and a whanging, banging monster in the pipes we dubbed the Heaterbeast. Outside, temps barely rose into the double digits. This was the latest in two years' worth of disappointments for people who, mostly, have never known a normal college career. It tested their capacities and mine, even as we made discoveries – and are still pondering what we found.
Back in April, our Center for Global Learning director advised me, for COVID prudence, to scale back my five-city "In Frankenstein's Footsteps" course to a single-country course I redesigned as the UK-only "English Monsters: From Frankenstein to Big Brother." Sixteen students signed up and we spent the fall semester preparing happily, gathering gear and reading Frankenstein, Wuthering Heights, Dracula, Nineteen Eighty-four, "The Strange Case of Dr. Jekyll and Mr. Hyde," Hallie Rubenhold's The Five, and rumors of ghosts in the British Museum. One week before Christmas – three weeks before we were supposed to depart for the UK, on Jan. 3 – I was gently told that, due to spiking Omicron-variant numbers in the UK, the course would be canceled. To keep the students from getting left in the cold (so to speak), could I reboot it as an on-campus version? Yes. In the end, nine remained for what became an immersive, joyous, unexpectedly rich community and creative-work bootcamp, rooted in daily discussions and workshops around the texts we'd all read (with a spaghetti dinner at my house). Eight of the nine wrote short fiction inspired by the texts and our discussions, amazing tales of witchcraft and AI and domestic-Gothic and climate dystopia and medical history and "The Nemesis of Neglect" and Heathcliff's three missing years. One made a short film. And through their eyes, I saw "monsters" anew.
In the film by student E – ten minutes, nearly wordless, lit by shades of Frankenstein and Nineteen Eighty-four and a melancholy, questing spirit that feels distinctive to this COVID-hindered, screen-surrounded generation– a young man in a suburban apartment descends into virtual-reality immersion.  He stands in his small apartment's living room in a VR headset and handsets, swinging at nothing. We witness a gradual buildup of dishes and trash, a gradual neglect of his bewildered, lonely cat, and phone calls that go unanswered. The student filmmaker is a tech entrepreneur who knows this stuff well. But she also thinks deeply about what these promising new machines are doing to people: her film casts a glancing, satirical eye on Mark Zuckerberg's new Metaverse (perhaps if he'd finished his Harvard degree, he might've learned that meta is the Hebrew word for dead.) 
In the spirit of exploring the monster's heart, a student nurse, M., completing intensive training and mourning the loss of her only chance to go abroad, wrote one of the most compelling first-person narratives I've ever read: a short story from the point of view of COVID itself. Its voice is Humbert-Humbert-ish creepy, memorable and arresting, lit by everything she's learned from virology and experience. In class, her testimony was just as compelling. "I have a grief for the vision of my career that I had before this pandemic," she said, "my patients will likely never see my full face," as she may never be able to go into an exam room without a mask. She described the experience of entering an intubated patient's room in full PPE, of wishing she'd done what the nurses pictured in the New York Times last year did: taped full-color photos of their smiling faces to their chests. It was one of those moments when you feel the temperature of the whole classroom change, a group of people becoming united by the same feeling even if no one can name it. "Does that make you angry?" another student asked.  "Yes," said M. "My patients have died, and I see people walking around campus with their masks down under their noses. It makes me….sad."
Here at the beginning of 2022, climate swings accelerating, Putin threatening Ukraine, the wheels wobbling faster on the shopping cart of this whole American life, I struggle to help my students ask what is this really about, what's really going on, what's actually at the heart of it. Because I can't stop asking this myself. The Chronicle of Higher Education reports that even if faculty may not be taking part in "the great resignation," we are experiencing "a great disengagement," unwilling, and increasingly unable, to keep giving as student needs and workloads spike in all dimensions and salaries don't even keep pace with inflation. Ranchers face ruin while celebrities fawn over bullshit and everybody flails for something like meaning. Swinging between exhaustion and frustration and hope, I keep returning to what is this really about? What is the real root of this feeling?  And here, maybe, is the answer: in my lowest moments, I am terrified that my vocation – words and ideas and their power to change human and nonhuman lives – doesn't mean anything to anyone anymore, even in the places where I once believed that meaning to be secure. That (as a first-year student said to me in 2019) "my generation doesn't read books anymore" and nothing I do can change that. That the vision of beauty and wholeness and healing I see will never be supported fully in America again, because it is not profitable. That nobody – even, and especially, the administrators and editors whose job it ostensibly is – truly gives a damn about the things I will die in a ditch to defend. That I now find myself in the classic position of the idealist realizing with horror that we are in Huxley's world rather than Orwell's, that the planet is burning and nobody really can muster the interest to stop it, that nobody reads books anymore, that we are all done for and cannot muster the concentration to care. That is a vision of horror I battle each day. That is my monster. And I go back into the classroom because I see no alternative. No other way to expose it to the daylight until it vanishes in a little puff of dust. Or, at least, retreats. For now.
I go back into the classroom because that's where the students are. They are the ones who will be here when I am gone. They are the heart of my vocation, the thing I do believe I'm on this earth to do. They are the ones who show me what the world looks like through eyes other than my own. And they show me new life in the stories that give life to me. And to everyone. If we will read. If we will hear. Monsters can terrify. And they can also teach.