Last night it became impossible to ignore.  Clipping a stem from my backdoor rosemary pot and stripping its leaves into a pork, tomato, onion, and garlic stuffing for peppers (thank you, dear Nigel Slater), I smelled the green cedary tang as it hit the hot oil, and knew, in my senses before my brain, that fall is here.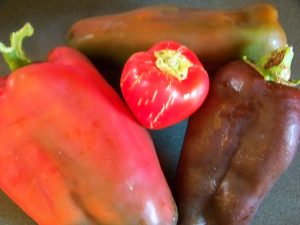 (The book is TENDER: A COOK AND HIS VEGETABLE PATCH.  You won't be sorry.)
Oh, lovely peppers of early fall, Napoleon and Garden Sunshine and Sweet Chocolate and King of the North.  Long and fine-fleshed and nervous as the skulls of horses, a light live weight in your hand that feels more like a bird than a vegetable.  And roasted, how the flesh softens and sweetens, slips away from the skin like meat from bone.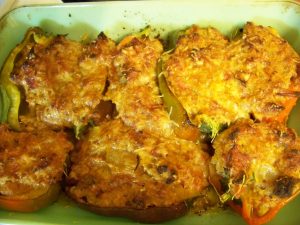 I took one hour from a marathon preserving session (more about that later) to ride some continuous gravel hills.  It was one of those evenings when you go out not so much for "fitness" or "mileage" as just to go swimming through the pinkish-gold sunset light, fierce and lovely and elegaic, on your own two wheels.  Stopped on a wide curve between cornfields and just looked.  Wide calm banks of clouds to the northwest.  Swallows breaststroking forward into the air, borne up against sudden breezes, knife-edged wings suddenly still for a beat or two, the sunset staining their round chests red.  Salty tang of dust and a little sweat in my mouth.  And all around me, time slowed and gently came to a stop.
And that night I slept on sun-dried, grassy-sweet sheets, and dreamed that maybe summer is not quite gone yet.  Not quite.