Checking my email on what is going to be my last full morning in Alabama for a while, I found some very troubling news: fracking may be coming to our beautiful little corner of northeast Iowa.
You might say it's technically not fracking, since the proposed mine in Allamakee County would be for what's called "frack sand," used in fracking operations to extract oil and natural gas elsewhere (such as the devastated Marcellus Shale regions of Pennsylvania).  Yet the cold clutch of fear and anger at my heart names this as the hairsplitting distinction it is.  If this mine is approved, sand dug out of our ground and washed with our (already too-scarce) water (that then — polluted — will be dumped back into our porous limestone earth and rivers and groundwater) will make its way off to any fracking operation in any part of the world that can buy it.  Like other victims of fracking, we will be left with polluted groundwater, poisoned air, and formerly beautiful forests and fields turned to moonscapes.  Property values would plummet — for everyone, including those neighboring landowners and citizens who did not give their consent for this insidious invasion of their land and their water and their bodies.  Fracking is touching our beautiful corner of the world, drawing us in without our consent.  Or is it?
If you have been living in northeast Iowa and trying to do better about your energy consumption and way of life to protect the land you love, trying to live differently, and trying to raise awareness of why fracking is bad (while secretly being grateful for its distance from you), you are coming up hard against reality.  Energy companies are stalking up and down the border of Iowa and Wisconsin, sniffing for available land, licking their chops.  Town meetings are taking place to debate whether this mine should be allowed to go through.  And you find yourself frightened and angry, thinking: holy shit, this is real.  You remember Sandra Steingraber's unforgettable essay on how fracking works and what it does to humans, animals, and the land and the accompanying photos that show, among other things, a couple who are able to light their polluted kitchen tap water on fire.  Another photo shows that same couple pouring giant plastic bottles of water into their horse troughs, because bottled water is the only water that's safe now.  Sitting in my parents' house on a beautiful Alabama October morning, I look out the window at our beloved horses and shiver.  How long could you keep that up, buying truckloads of bottled water for your livestock troughs? How long before your horses and cattle and cats and dogs — not to mention yourself, and your children, and wildlife — started to show the respiratory ailments and cancers that accompany fracking everywhere it goes?  What about your garden?  How long would you try to sell your property — your home — and get away before you just gave up and let the mining company have it, for almost certainly less than it was worth, because no one else would take it?  If you are a Christian, how long before you could silence the tormenting refrain in your head: sold for thirty pieces of silver?  Air, water, land, birthright, burned up in a voracious energy-consumption maw, never to come back? How long before you could even begin to get over your guilt and anger and grief, no matter how often people told you with compassion in their voices that you just had no choice?
Of course, as citizens and energy users of this country, it's naive to pretend we were ever innocent of participation in fracking.  We use what comes out of that ground.  The great writer George Orwell, doing immersion journalism about coal-mining in the north of England, wrote in "The Road to Wigan Pier" (1937) that "Our civilization… is founded on coal, more completely than one realizes until one stops to think about it. The machines that keep us alive, and the machines that make machines, are all directly or indirectly dependent upon coal. In the metabolism of the Western world the coal-miner is second in importance only to the man who ploughs the soil. He is a sort of caryatid upon whose shoulders nearly everything that is not grimy is supported." Therefore he descended to the depths of the mine and lived and slept in the grimy company towns to make the comfortable citizens in our aboveground houses aware that we're not immune: 
"It is so with all types of manual work; it keeps us alive, and we are oblivious of its existence. More than anyone else, perhaps, the 
miner can stand as the type of the manual worker, not only because his work is so exaggeratedly awful, but also because it is so vitally necessary and yet so remote from our experience, so invisible, as it were, that we are 
capable of forgetting it as we forget the blood in our veins. In a way it 
is even humiliating to watch coal-miners working. It raises in you a 
momentary doubt about your own status as an 'intellectual' and a superior 
person generally. For it is brought home to you, at least while you are 
watching, that it is only because miners sweat their guts out that superior 
persons can remain superior. You and I and the editor of the Times Lit. 
Supp., and the poets and the Archbishop of Canterbury and Comrade X, author of Marxism for Infants–all of us really owe the comparative decency of our lives to poor drudges underground, blackened to the eyes, with their 
throats full of coal dust, driving their shovels forward with arms and 
belly muscles of steel."
Our challenge as the people aboveground is to keep the consequences of our lifestyles and consumer choices real to ourselves, and keep ourselves aware of what they cost — really cost — and to act accordingly.  It's easy to be superficially "green," buying this bathroom cleaner instead of that one, but how easy is it to change — really change — the way you live, to get onto the bike instead of into the car, to refuse to buy instead of to succumb to the twitch of consumer desire? How can you not lapse into dilettantishness about these threats to life on our planet, or get discouraged and revert to all your old habits because you think nothing you do makes a difference?  "This is the inevitable fate of the sentimentalist," observes Orwell, astute as ever.  "All his opinions change into their opposites at the first brush of reality."
This is a constant struggle, every day, as is the struggle generally to live with conviction and compassion on this earth.  As our election draws closer, I've been realizing that I guess I really am one of those single-issue voters.  Because I have come to believe — like Naomi Klein, and Michael Klare — that if we don't get climate and energy right, nothing else is going to matter, because everything  — including not just our cultural but our moral survival — depends on our planet's health.  I've come also to believe that one of the reasons political differences can be so intractable is that we don't vote on "ideas" or "facts" so much as on our experiences of the world, which have given us particular visions of the way things are, and could be, over layers of time and reaction and emotion too deep to eradicate in a discussion or two.  People have real reasons for feeling the way they do.  As much as I hate mountaintop-removal and coal mining, my recent drive through West Virginia brought home to me, again, that it is a matter of survival for people who live there.
So perhaps this is the way to address climate and energy: come together across what really are imaginary lines (because who does not require clean air and clean water to live?) to demand that our political leaders rein in Big Energy (at which both major parties have failed) and give us sustainable solutions, as countries like Germany have already been doing for some time, and as so many writers like Frances Moore Lappe have been describing.   We come together in this regard, like participants from all walks of life at a communion altar, over the body of the land we love.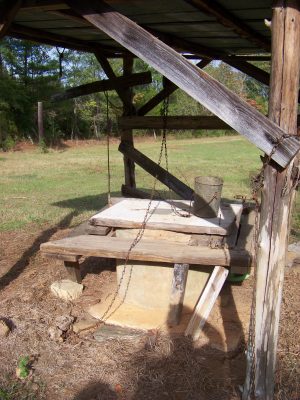 This well still stands on our family's ancestral farm in rural Alabama.  When I was a child, this place was Eden to me: all around this well were collards and tomatoes and gourds in a lush garden, a giant fig tree, and an orchard with peaches and plums and a scuppernong arbor that overflowed our scarred plastic buckets and baskets with fruit.  Hearing as a little girl in my Methodist Sunday School about the hopes of those wandering desert Israelites for a lasting and bountiful home, and the Bible's many analogies of water, richness, gardens, trees, and fountains for the spiritual repleteness offered by the Jesus I pictured as vividly as a known person in my mind, it made perfect sense that they would dream of living water as a metaphor for God, that God would speak to those who sought Him in terms of water, of thirst quenched and satisfied, of life that renews itself by mystery and grace as surely as our abused earth has struggled back to give, and give, and give again, although no one knows how many more times it can return.  I ran through the grass under those trees, batting away yellow jackets too full and happy to sting, tracking between my sister and my baby brother and my grandparents and my parents, soaking in the light flickering on my face through the leaves and the laden branches, convinced that this world as I knew it would never die.
The orchard and the fig tree and the garden are gone now.  So is the silver-burnished tin dipper from which we drank that well water on every single trip to the orchard.  I have dreamed of reviving that Eden, and still do.  Revisiting that farm recently, my mother lifted the well cover and my father dropped a stone inside.  From twenty feet away I heard the thunk — not a splash — where it hit.  "Dry," my father said.  I wanted to look inside.  I didn't want to look inside.  I turned away.  That lost orchard painted itself across my mind so vividly it threatened to eclipse the actual sight of the remaining pecan trees in that spot.
The stream that ran across the back of that farm for years and years is also dry.  I couldn't bring myself to walk down there and look.  
There is drought in that part of the world as in Iowa now.  There is a rock quarry that has disrupted groundwater everywhere, although another one was, thankfully, blocked.  There is the reality that what happens in one place does not only affect that place.  There is that reality.
And there is — somehow, there has to be — grace.  The abused land can and does rally itself for another try. But only if it has some help from us, only if we can get over the shameful spiritual arrogance of living and acting like we are the only species on earth, only if we can find the maturity to think beyond the next six months into the next seven generations, and beyond, only if we can use our intelligence to cut the political noise and insist that leaders from Washington to Allamakee County, Iowa talk honestly about the results of our society's choices and do what's best for all of us, not just for those of us with big money.
I do my best not to be naive about the real challenges — including the need for real livelihoods — that our way forward presents.  I do my best.  I work and wait for grace.  I live in hope.  As we all do.  As we must.