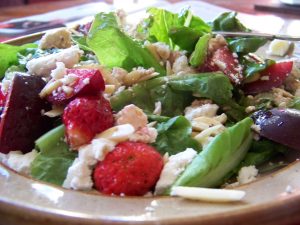 So while maybe it's not terribly original, I was proud of this when I threw it together, with an experimental tweak or two, last night: lettuce from the garden, cold deep-red plums from the fridge [pause for silent William Carlos Williams homage here], goat cheese, almond slivers, and one of the last handfuls of strawberries from my backyard patch. You get the idea. Fruity, tangy, savory, fresh.  With a slice or two of homemade bread, this was all the dinner I really wanted.
But the dressing had a bit of a twist that elevated it to something different. Also in the fridge I had some leftover mint simple syrup that I had made and canned a few weeks ago.  A splash of that mixed with balsamic vinegar and olive oil, plus a grind or two of pepper and a little salt, made a wonderful vinaigrette, just minty and sweet enough to set off the fruit even better than a balsamic vinaigrette normally would.
This is where I realize my limitations as a recipe writer, since (like the women from whom I learned to cook), I am not good at recording measurements of things, preferring instead mostly to cook by sight, texture, and taste (and guessing.) Nevertheless, I'm guessing that if you just assemble these ingredients or any others that occur to you (some torn-up basil leaves would be good in this salad, too) and combine (let's say) 3 tablespoons of olive oil to one tablespoon of balsamic vinegar and a teaspoon of the mint simple syrup, adjusting to your own tastes, you can have a great-tasting salad of your own, with no recipe. Enjoy!