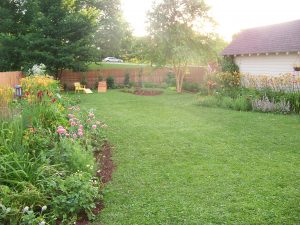 What you see here is the result of my past couple blogging-less weeks of garden work: several big and long-planned projects including the construction, priming, and painting of a new fence (to the far right, now completely enclosing the yard – other people built it and primed it, I painted it); weeding everything and trucking in a load of mulch from the city yard waste place to weed-barrier-ize as much as possible; removing all the landscape rock and black plastic from the beds in front of the house; cutting the lawn with, and readjusting, my beloved new yard-sale reel mower; and getting my little old tiller fixed to till in a new circular vegetable/flower patch where a spot of sun falls.  A great friend and founder of a certain wonderful organization helped me design it so that it wouldn't look like an awkward chunk cut out of the lawn but would still take advantage of the sun.  New seedlings in the spot are Thai basil and cilantro for the strawberry preserves recipe that has won raves from everyone from weekend guests to my miracle-working fence contractor-and-rain-barrel-downspout-connector.  In the center as a focal point is a trellis pot with a sickly, now-recovering snail flower vine. If I find the perfect piece of yard art (something appropriately Alabamian, of course) it might be replaced…
My late grandmother's cabinet in the basement — soon to be refinished, another project — is filling up with preserves, although several evenings of serving them to friends along with big dollops of homemade ricotta cheese are making a serious dent… But before she died, my grandmother told me how she regretted her lifelong habit of "saving things for later," not using or sharing them now.  (Remember those little dead seeds…)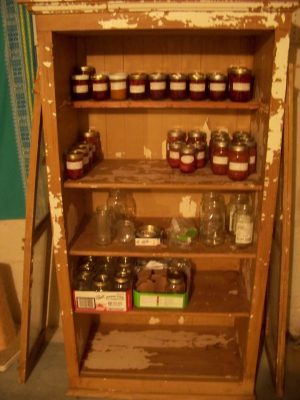 But some wonderful visits and cookouts with friends and Fourth of July weekend activities have left me certain that sharing rather than hoarding is the way to build genuine wealth, and health.  Here I am on the Upper Iowa River, on a perfect canoeing day: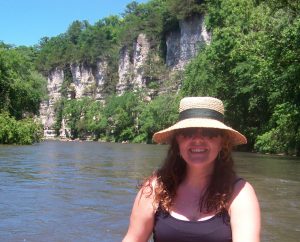 But of course, after all this activity I returned to my writing desk and faced a swelling chorus of the voices that had been nagging at me even through the sweat and wheelbarrow-trundling and tiller-wrangling of the previous weeks: that's a long time away from your novel, girl. A long time away from the manuscript you had big Revision Revelations about and then completely walked away from to play in your yard and indulge your backyard-homesteading fantasies. You have a great editor who gave you good suggestions and wants to read this manuscript again, and you have a finite amount of summer left before you have to go on another out-of-town trip and then back into the maelstrom of full-time teaching, your first year as an official tenured professor with the step-up of responsibility and expectations of even *greater* involvement that will entail.  You have not been biking. (Yesterday's twenty-mile trip was a big sweat; this time last year, it was a cinch.) What are you thinking?
Compounding this was, yes, further financial anxiety.  I'll be honest with y'all: if you've been following my journey, you know that I have just made my last payment on my car and my last payment on my old credit-card debt, a total of $50,000 of consumer debt killed off in four years.  I did it.  I have now officially erased that debt.  But I'm having trouble feeling celebratory about it; very big, overdue payments on student loans and a couple other unavoidable obligations have put me very close to the edge once again, much closer than I expected, a year ago, that I would be now.  And still with no credit cards; no matter how bad the I'm-broke anxiety is, turning to credit cards again would feel even worse.  Once again I feel like I'm back in the position of holding on till next month, when Things Will Be Better and I Can Really Build Up Savings Because I Won't Have These Debt Payments and I Won't Make Mistakes Again.  The problem is that my debt reductions and my extra jobs this summer were supposed to put me in that position too.  And they haven't.  I sat at my computer yesterday morning struggling to write, swamped by a choking tide of anxiety and fury (at myself) and doubt and fear.  What if I…. What if I never…
So I wrote it all down, made a list of plans and options, reminded myself I am only controlling what I can control and no one can do more than that, and looked at a saying I keep next to my desk, from the Tao Te Ching: Whoever can see through all fear will always be safe.  The last few years of big changes, up and down and down and up, have taught me the truth of this.  Life keeps moving.  All we can do is look at the fear, acknowledge it, see through it, and keep moving, too.
And know when to give ourselves a break.