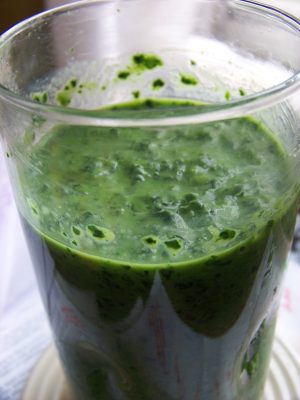 Quick recipe for a homemade green smoothie and great afternoon snack: ingredients but not (most) amounts listed, as you should adjust the proportions to make it taste good to you.
Kale (I used a big bunch of Lacinato, from the yard)
Basil (I used three or four sprigs worth, from the yard)
Pineapple (preferably a chunk of fresh-cut; canned would probably be too sweet)
Yogurt (plain, Greek, or vanilla lowfat)
When I was still drinking orange juice, I would put a little of that in here too to help liquify everything, although it isn't really needed.  You could add some silken tofu as well, for a little more protein and smoother texture.
Whirl everything up well in a blender or food processor, taste, and adjust. I have made this a lot but added the basil this time, and was pleasantly surprised by what it adds to the flavor.
Trust me, I never thought I would enjoy drinking green things either, but I love this.
Enjoy!